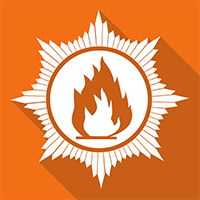 Fire Marshal (Wardens) Online Course -RoSPA & CPD Approved - Same Day Certificate
Fully Approved Course - RoSPA & CPD Approved
100% online training, 220 minutes course plus online

 assessment
Same Day Certificate
Stop & start at anytime
No time limit 
Target Audience
Our online fire safety training courses are aimed at all employees to assist them in identifying and reducing the risk that fire presents in the workplace. Fire marshals (sometimes known as fire wardens) are civilians trained to assist in emergency fire evacuation procedures at businesses and other organisations.

This course will provide you with the necessary training required to be a qualified fire warden. It will educate you about what your legal duties are, will provide you with an understanding of fire, familiarise you with fire hazards and fire safety arrangements, and detail what your emergency evacuation procedures should entail. The information in the course will enable you to take responsibility for fire safety in your workplace and protect everyone's wellbeing.
Anyone at any level can take it and no previous knowledge is required - it will cover both the basics and specifics of fire safety. It will educate you about what your duties are and how to fulfil them.

This certified online training is ideal for people working in positions such as, but not limited to:
Manager / Supervisor

Administrator

Teacher

Receptionist

Director
Course Description
Current legislation, The Regulatory Reform (Fire Safety) Order 2005, applies to all workplaces regardless of the number of employees and requires employers to provide adequate training in fire awareness for all members of their staff.
The main outcome of this training course is to provide you with the knowledge to carry out the functions of a fire marshal. - Please note, this course also contains all of the content in the Basic Fire Awareness and Fire Extinguisher courses.

It is a legal obligation that workplaces must have a sufficient number of fire marshals to deal with fire emergencies. This course provides extensive knowledge of fire prevention, evacuation protocol and using fire extinguishers.
Advantages
Being aware use fire marshal ensuring these are used correctly and safely is of paramount importance. The course is approved by leading industry bodies RoSPA & CPD Service in London. 
Online training is flexible, efficient and cost effective meaning the candidate can progress through the modules at their own pace and in their own time, so they can fit the training in around their work and personal life.