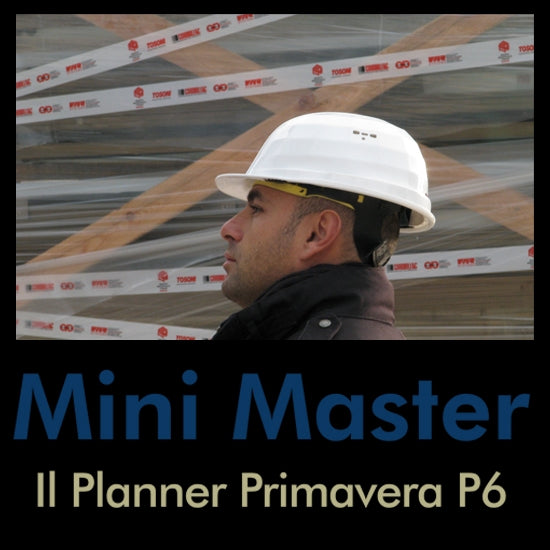 Mini Master Planning Primavera P6
Save

Liquid error (snippets/product-badge line 32): Computation results in '-Infinity'

%
GOALS AND OBJECTIVES
Planning is the discipline that allows you to schedule and manage a project's resources properly. This short course is focused on knowledge of Oracle Primavera P6 EPPM (Enterprise Project Portfolio Management) for centralised Project Management at enterprise level.
At the end of the course participants will have the knowledge to support planning activities and adequately manage the large amount of data that a project requires and produces.
Our teachers use real case studies rendering the course extremely practical and operational.
WHERE
3 full days (24 hours) Classroom at our Manchester training centre in Manchester City Center - M4 5JW (Northern Quarter) or in videoconference in the following days

Friday 1/12- 4h from 14.30 to 18.30
Saturday 2/12- 4h from 9 to 13
Friday 15/12 - 8h from 9 to 18
Saturday 16/12- 4h from 9 to 13
PROGRAMME
Planning: general planning; Stages of the project life cycle; Bid Preparation; Understanding project members' roles; Project planning; Project specifications; Schedule milestones; Work Breakdown Structure (WBS); WBS problems; Role of the Manager in project selection; Role of the Manager in planning; The planning cycle; Managing the phasing of projects and transfers; Schedule and detailed diagrams; Master production scheduling; Program plan; Management control. Scheduling techniques on the network: The fundamentals of networks; GERT (Graphical Evaluation and Review Technique); dependencies; Slack Time; Rescheduling of the network; Estimation of the duration of the activity; Estimated total time of the program; Schedule PERT / CPM overall; Crash Time; Networks of precedence; Lag; Project Management Software; Functions offered by the software; Classification of software; Implementation problems. Primavera P6 Professional: Basic Concepts of Project, Program and Portfolio Management. Administration of Primavera P6 Professional: Enterprise Project Structure (EPS); Organizational Breakdown Structure (OBS); Management and optimization of resources and corporate roles; Creation of global custom fields and / or resources assigned to WBS projects and activities.
Technical and functional characteristics of the package Primavera P6 Professional Laboratory:
The creation of a project in Wizard mode; Initialization of the project WBS; Detailed planning of the project; Preparation of the lattice model of the project (network diagram) Allocation and management of resources and costs; Formalization of the Baseline version; Control and management ofthe project (and / or subproject); Surveying Progress Evaluation of project performance and estimating completion time (Earned Value Method); Rescheduling of the project; Document management of the project; Risk management; Creation and publication of reports.
PARTICIPANTS
It is aimed at all those who wish to learn how to plan a project using the basic and advanced functions of Oracle's Primavera P6 Professional.
Compliant with IT international standards relating to PMI Project Management
TEACHERS
The teaching is carried out by expert Oracle-certified trainers and project managers with proven experience in the Construction and Oil & Gas Industries.